Furniture By Design, a North Carolina-based company established in 1996, specializes in designing and crafting exquisite, handmade hardwood furniture. Owner and artisan, Bayley Wharton, carefully crafts each piece of furniture to ensure its distinctiveness and durability.
Wharton studied furniture making and design at NC State University where he earned his Masters degree in Industrial Design. He supplemented this with workshops at Anderson Ranch and self education. His woods of choice, Curly Maple, Cherry, Bubinga, Walnut, Ebony, Wenge and Bloodwood, are among the most premium hardwoods available today. Each species possesses its own unique grain pattern and vibrant hue, giving Wharton the creative freedom to craft intricate and captivating designs without relying on synthetic dyes or decorative additions.
Wharton's creations are characterized by their minimalist, sleek lines, a deliberate choice that allows the inherent charm of the wood to take center stage. When Wharton decided to incorporate upholstery choices into his handcrafted collections, the addition of leather, yet another natural material, effortlessly harmonized with Wharton's designs.
The inherent qualities of leather, such as its supple texture and rich, warm tones, complement the organic beauty of wood. The durability and resilience of leather make it an excellent choice for upholstery in furniture. Like the meticulously handcrafted hardwood designs of Wharton, leather can withstand the wear and tear of daily use, ensuring the longevity of the piece.
You can meet Bayley Wharton of Furniture By Design and see his beautifully handcrafted furniture featuring Casper Hill leather at the upcoming Southern Highlands Craft Guild Fair in Asheville this October 19 - 22! Check out his work on his website: FurnitureXDesign.com
Q & A (Interview with Bayley Wharton - Owner)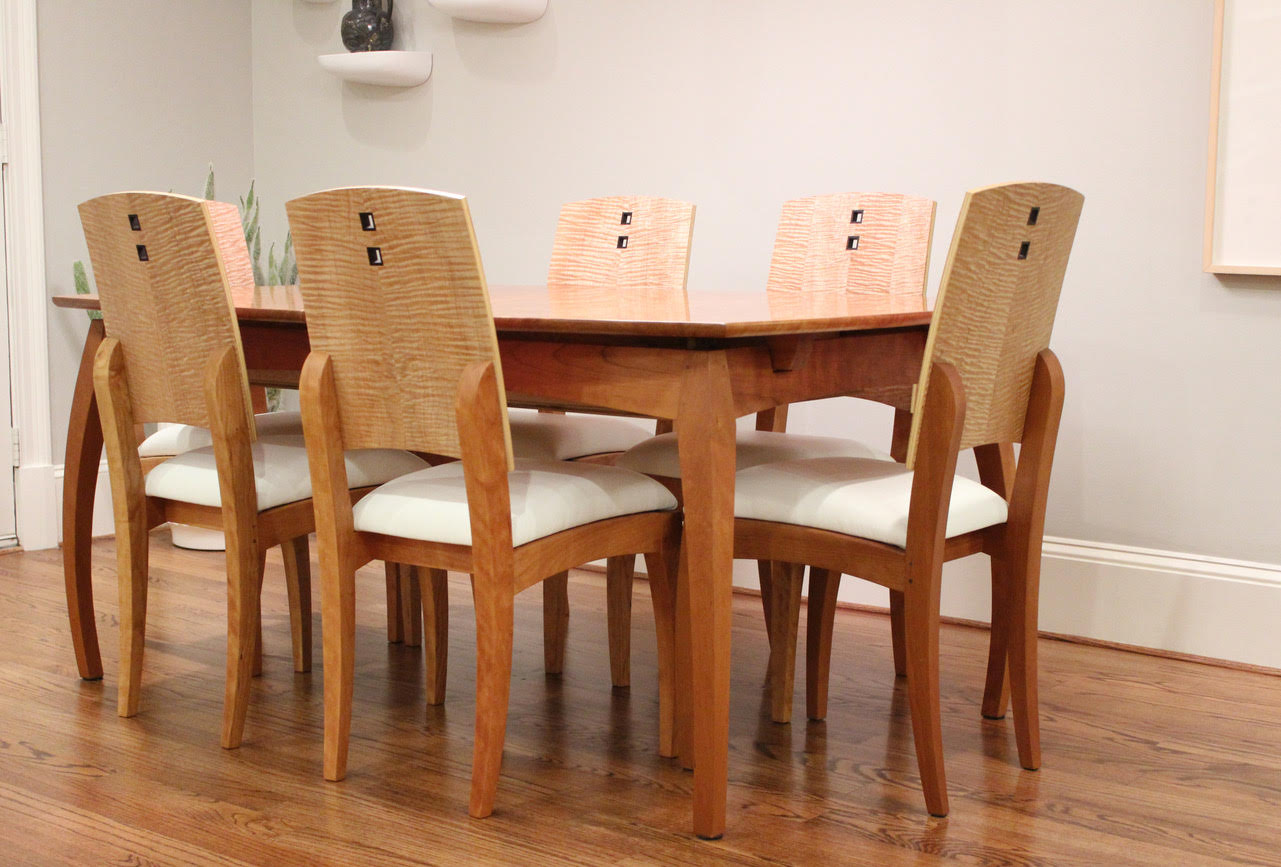 What inspired you to get started in the upholstery field?
"When you see a presentation of my work it's obviously the woodworking that's the big thing. When I first started "Furniture x Design" (pronounced Furniture by Design) in 1996-97, the biggest type of piece I could make in my tiny workshop was a console or sofa table. When I moved into a bigger space, bigger pieces became possible including dining tables, which really started to develop in the mid-2000's. Dining tables, of course, necessitated chairs to go with them. Therefore the upholstery entered into my work."
Most common question from customers?
"Many Customers ask if I make chairs with carved wooden seats. In thinking about the design for dining chairs I wanted people to be comfortable at a dinner table for a long period, lingering over desert, coffee, conversation and so forth. I recalled a professor's advice in Design School, "even in the most comfortable, most anatomically correct, carved wooden seat, people become uncomfortable and fidgety after a very short time, usually about 10 - 15 minutes." You see people shifting around, trying to find a new position, trying and relieve a pressure point, or avoid a hard spot. After a brief spell, they just want to get up and leave the table. Upholstered seat cushions were, and are, the way to go."
What is your trademark, brand or unique skill or process that is distinct to your work?
"The complete body of my work has a distinct Asian architectural influence. Shoji Screens as a cabinet facade. Torii Gates become tables. Kanji represented in a chair. Japanese joinery, etc. The "Arts and Craft Movement" of the early 20th century, and some "mid-century" influences creep into the work as well. Largely the work is contemporary in nature, but there are centuries old aspects involved also."
What is most important to you when working with a supplier or vendor?
"Price and quality of a supplier's product are of course important, but most important is customer service and how I am treated as a person. When a vendor or supplier makes a concerted effort to be helpful and courteous to me in regards to both my business, and me personally, I will come back to them time and time again. Most people prefer to do business with those we trust and have had good experiences with. Whether it's supplying some piece of product information about using or installing their product, or bringing to my attention new items that might be of value to my business, or just being helpful and accommodating in any fashion, that gets my attention, and my future business."