Posted by Casper Hill on Jul 27th 2023
Pontrelli's Furniture Company has a rich history that began in 1922 when it was founded in Los Angeles. The company was the concept of three immigrant brothers from Italy. In addition to furniture, they also offered records and provided music lessons.
In 1959, two of the brothers' sons, Tino and Mike, assumed control of the business and transformed it into an upholstery and drapery enterprise. Over time, the store was sold, prompting a relocation to Huntington Beach. Since 1977, Pontrelli's Interiors has been serving the Orange County area with top-notch custom upholstery services.
In 1989, Mike, the son of Tino, took over the business and has continued to maintain the same level of quality work that his grandfather initially established. Pontrelli's Interiors has built a reputation for providing excellent craftsmanship and meeting the upholstery needs of customers in the Orange County and surrounding areas.
Q & A (Interview with Mike Pontrelli - Owner)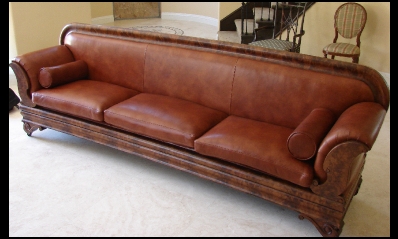 What inspired you to get started in the upholstery field?
"It was always a family business, and I grew up in the shop learning the trade. I really enjoyed the work and seeing the look in customer's eyes when I deliver furniture that was beat up and old, makes this all worth it. I love what I do."
Biggest challenge for your shop?
"Sourcing matching materials in custom antique restorations can be a real challenge. Our team will first check the frame and springs for any issues. Many of these projects require intricate techniques, like 8-way hand tie technique to the spring construction. We also work with a wood refinishing craftsman when needed. Antique restorations involve a great deal of expertise and patience but are well worth the effort!"
Do you have a favorite Sewing machine?
"We have two machines we utilize, a Consew 325 and a German made Pfaff. Sometimes we still break a needle when sewing especially thick leather welt."
What is a fun fact about your or your business that most wouldn't know?
"I enjoy the opportunity to trade my services with other local businesses and craftsman, fostering a sense of community and support within our professional network."