Posted by Casper Hill on Jun 20th 2023
The D'Orazio family started their custom upholstery business back in 1982! Paul was always around the shop growing up! Watching his parents run a successful business was all he needed to decide that is the direction he wanted to go after college. Paul quickly got more involved with growing and expanding the business, and soon took on the trade himself. He fell in love with the multitude of transformations he got to see, taking an old piece of furniture and turning it into a treasure! From growing up in the business, and being around employees who were like family, Paul realized how much this business meant to him, and couldn't bear the thought of not continuing with his family's legacy!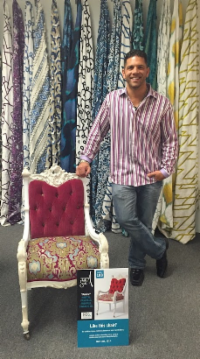 Q & A
What's the most common question you get from customers?
"I often get asked Is my piece worth getting reupholstered or can I buy a new one for less? The answer is simple. If the piece is well made and older, you cannot find that quality today for a low cost. If the existing piece is not high quality then it is not worth redoing. A well-made sofa from 30 years ago will cost half to reupholster versus buying the same quality brand new."
Biggest challenge for your shop?
"Employees. We are at 17 people now and I would love to take on more. Finding skilled, upholstery craftspeople with experience is very difficult."
Can you tell me about one of the most challenging projects you've completed?
"One time we had to build a rounded sectional for a prayer pit in a customer's home. It ended up being 8 curved loveseats all done in white leather."
What would you say is one of your most important contributions to this industry?
"Hands down it is saving the furniture from going in the trash. People in this trade put their heart and soul into creating the furniture from years ago and we honor it by saving it."