Posted by Casper Hill on Jul 24th 2023
In 1972, Fred Saah came to the US from Jerusalem, with a dream of using his skills as a craftsman and opening a family furniture repair business. Today, his sons and grandchildren carry on that tradition. Located in a 17,000 sq ft facility with 18 dedicated employees, C&S has become a staple of furniture refinishing, upholstery, and restoration services in Knoxville, TN.
Q & A (Interview with Chris Saah - Co-Owner)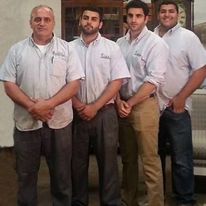 What are the most common questions you get from customers?
"We often get asked do we sell fabric and leather (we sell both), pricing (depends on the piece, damage, and material used), is it ok to drop off pieces (yes, we have a storefront and a showroom), and does buying a new piece last longer (older pieces offer better quality and last so much longer than new)."
Biggest challenge for your shop?
"Currently, it's keeping costs down. Sourcing the best products and materials for a reasonable cost is a big challenge these days. We also find it challenging to find qualified employees. We want to maintain our high standards. Our current team has over 200 years of experience."
Can you tell me about a challenging or nightmare customer?
"My dad, Charlie, had just started in the business and was getting through the Christmas rush. A lady came into the shop three days before Christmas and franticly needed a job done by Christmas Eve. Charlie sacrificed time with his family to have the customer's piece done on time! Charlie called the customer repeatedly but she never showed up. So he ended up keeping the piece and still has it to this day."
What would you say is one of the most important contributions to your success in this industry?
"Honesty, treating each project as your own - all customers leave happy and help maintain our legacy."